Beginner´s Guide to The Ordinary 2020
The Ordinary/Deciem has just released some new regimens/routines and lots of information to learn how to use The Ordinary. November is now not only Black Friday month with 23% off everything but a whole month of learning all about skincare.
Deciem | The Ordinary Introducing Knowvember
What's included on this page so far;
---
Signs of Ageing Routine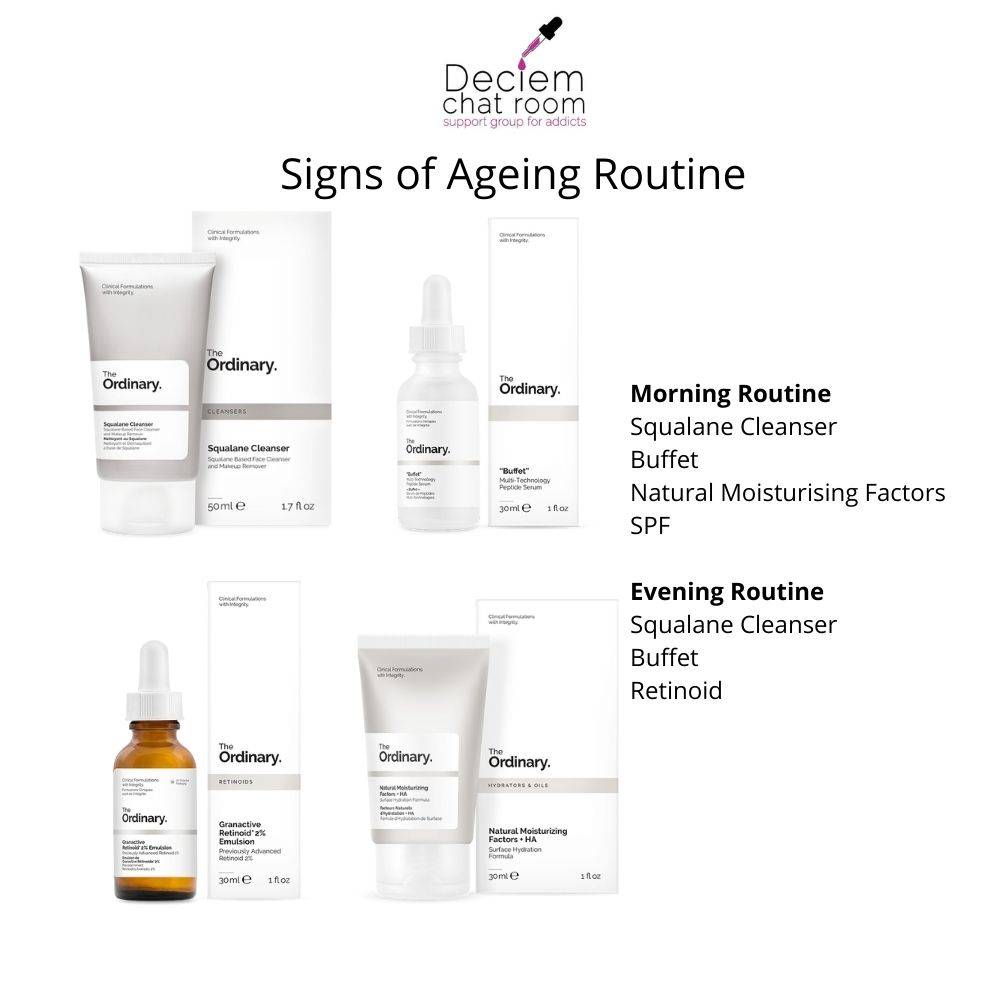 ---
Hydration Routine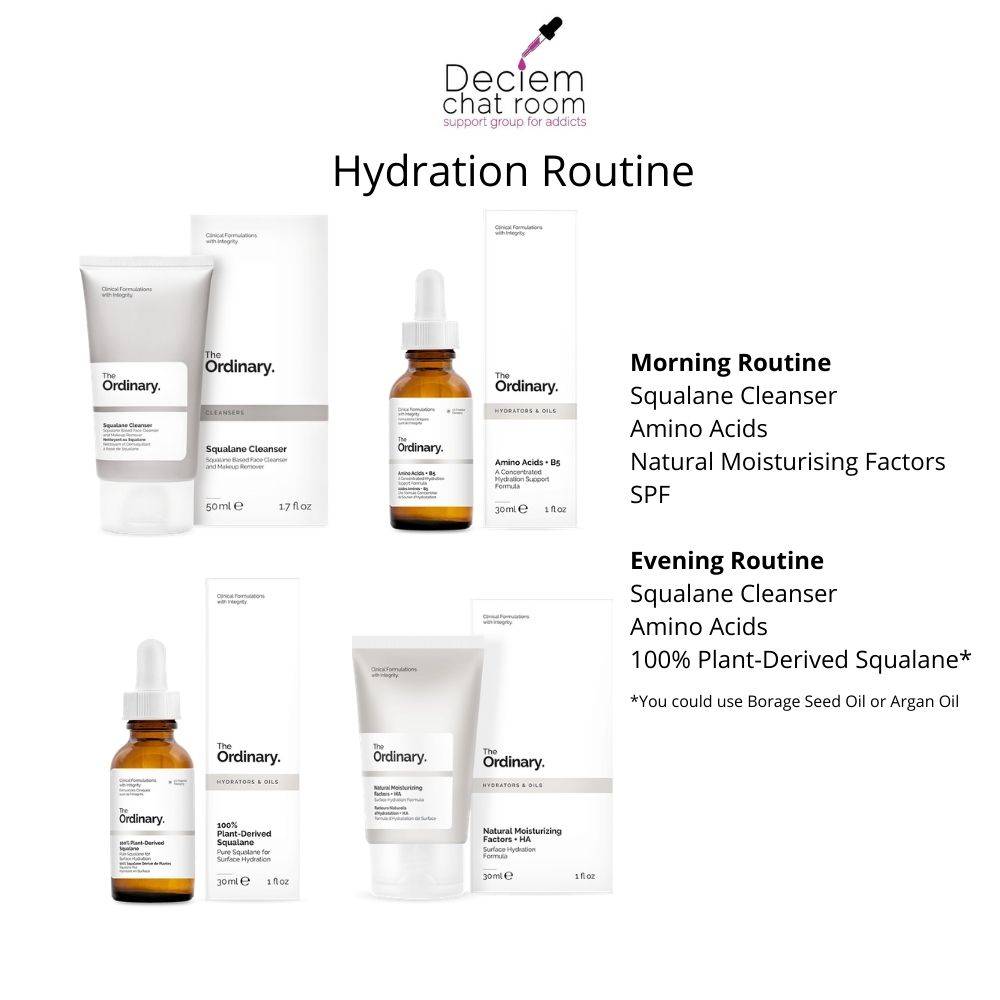 ---
Signs of Congestion Routine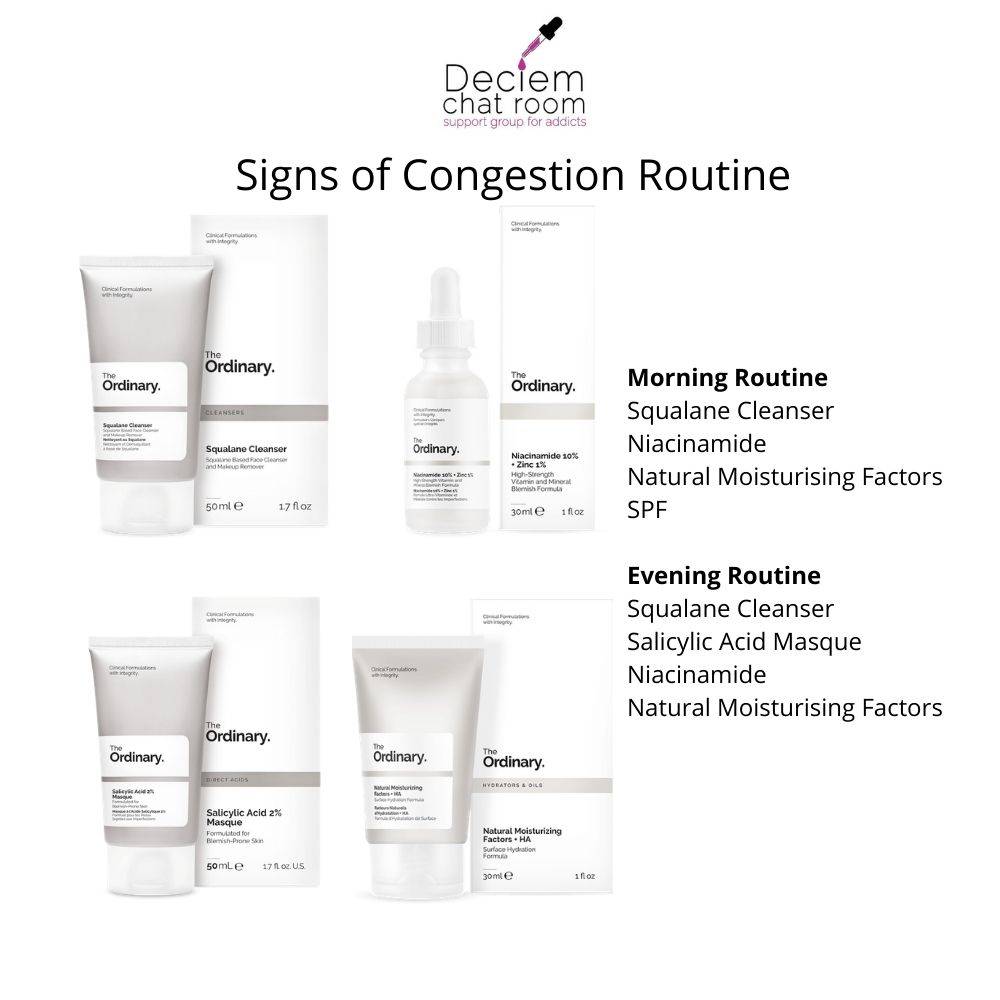 Explanation by Deciem all about congestion
---
The Ordinary Antioxidant Support Routine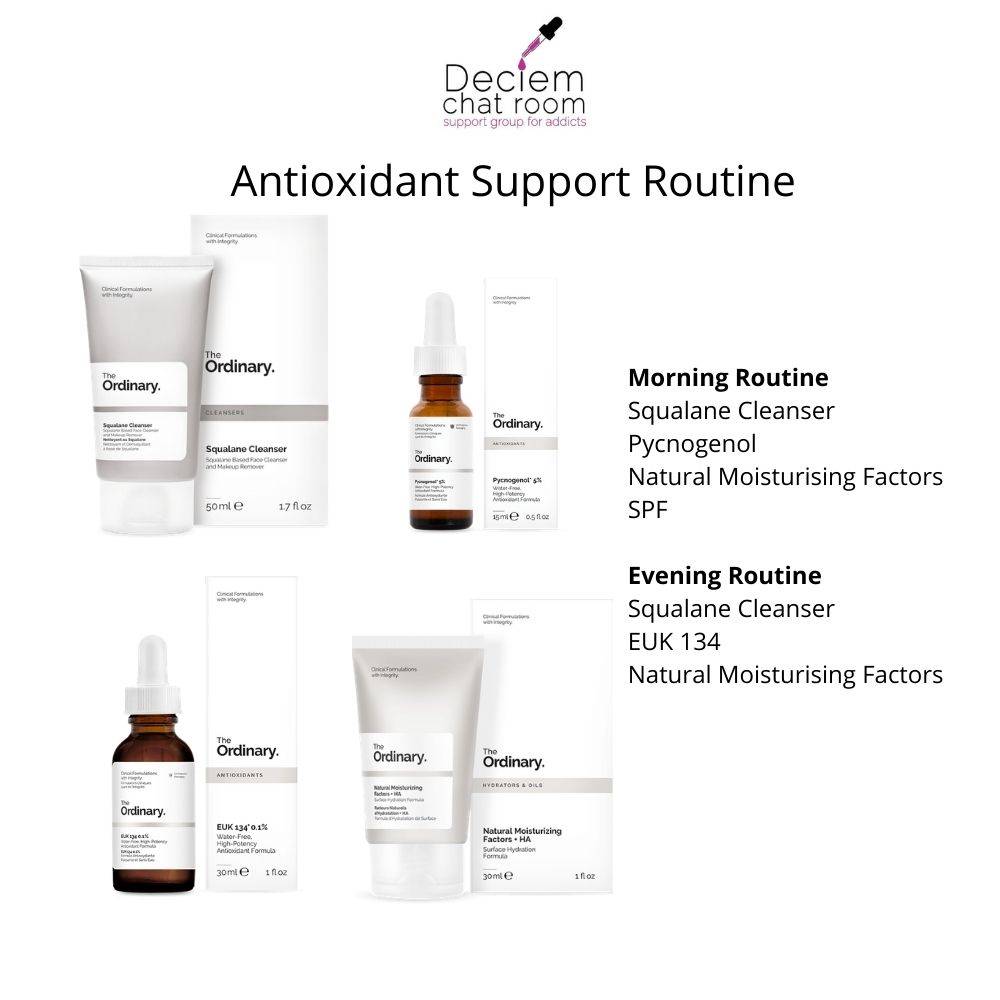 ---
Simplistic Routine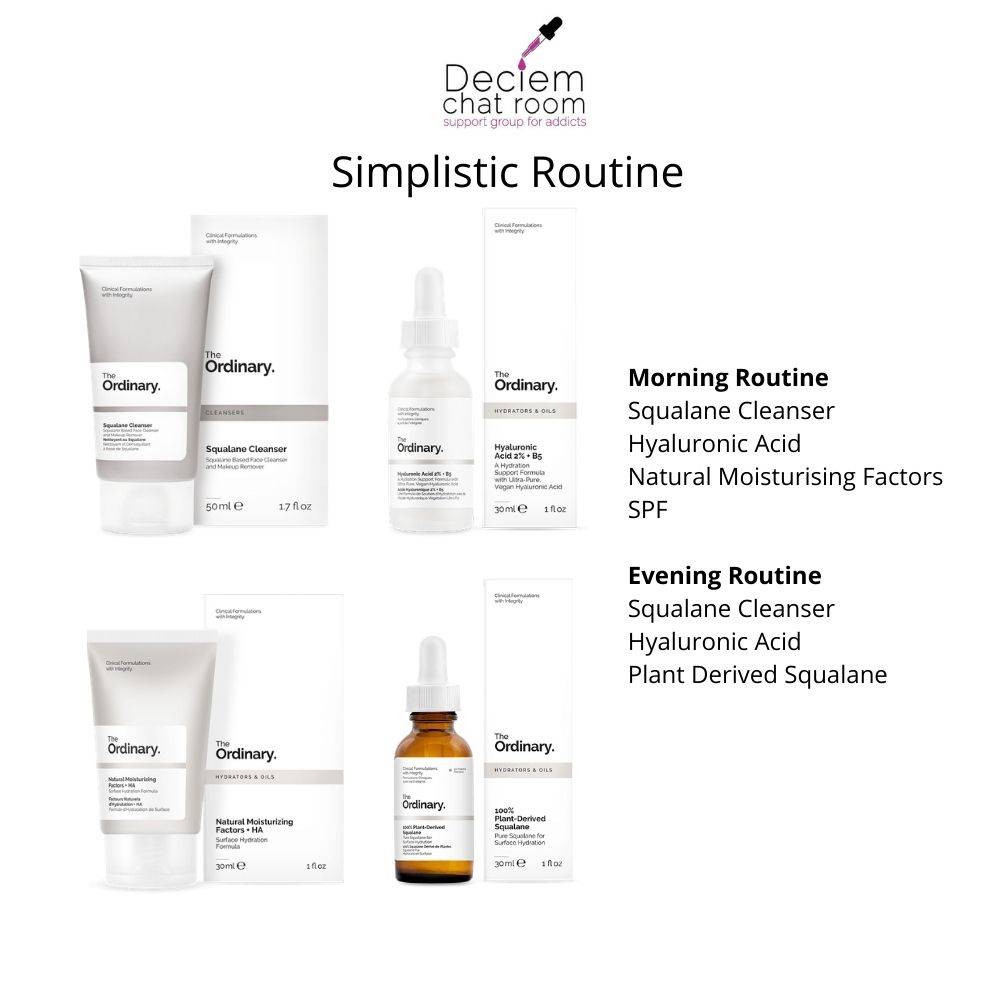 ---
The Brightening Routine for Dull Skin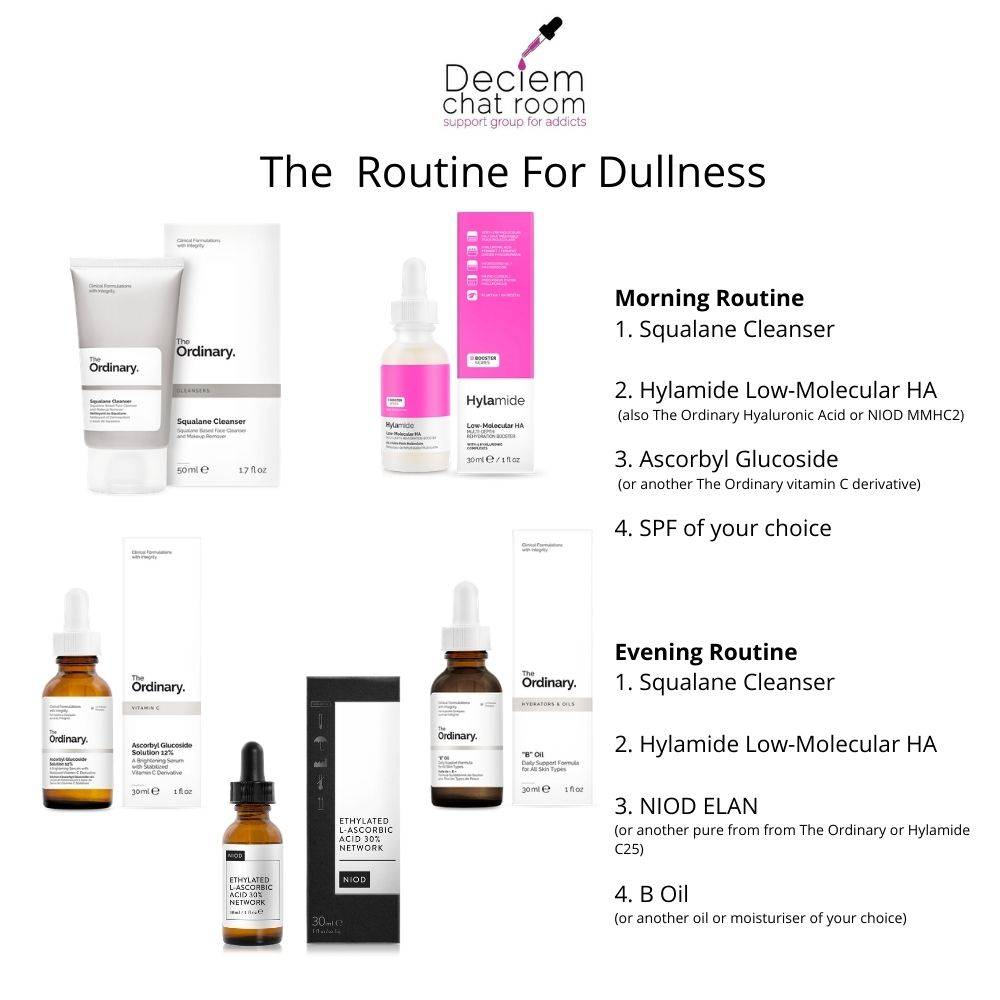 ---
Skin Types
Normal Skin
Dry Skin
This is the rarest of skin types.
Lacks natural moisturising factors and lipids
Smooth appearance
No visible pores
Even complexion
Dullness
Flaky skin
Tight skin
Fine lines
Oily Skin
Combination Skin
Produces excess sebum
Is oily & normal/dry in different places
Large pores
Congestion
Shiny appearance
Oily t-zone, normal/dry cheeks
Normal/dry t-zone, oily cheeks
Skin Concerns
Jack and Joe from Deciem go into more depth about these different skin concerns at 60mins/1hour on this YouTube video.
Dry Skin & Dehydrated Skin
DRY SKIN

DEHYDRATED SKIN

Caused by lack of natural moisturising factors and/or lipids
Lacks water typical due to external factors
Look & Feel
Flaking skin
Dullness
Rough surface texture
Itchy skin
Look & Feel
Tightness
Dullness
Surface dryness
Excess sebum production
Sensitive Skin & Signs of Congestion
SENSITIVE SKIN
SIGNS OF CONGESTION
When your skin becomes easily irritated as a result of habits or environmental factors.
The buildup of dead skin cells, debris and excess sebum inside pores.
Look & Feel
Redness
Itchiness
Irritation
Inflammation
Flaking skin
Look & Feel
Blackheads
Whiteheads
Blemishes
Excess sebum activity
The Ordinary & NIOD Products Recommended
NIOD MG
The Ordinary 100% Borage Seed Oil

The Ordinary & NIOD Products Recommended
Azelaic Acid
Niacinamide 10% + Zinc
100% Niacinamide Powder
Textural Irregularities & Skin Fatigue
TEXTURAL IRREGULARITIES
SKIN FATIGUE
Skin feels rough or uneven skin and doesn't feel smooth to the touch.
Many effects of excessive stress from internal and external aggressors.
Look & Feel
Bumpiness
Roughness
Flaking Skin
Scarring
Look & Feel
Lacklustre skin
Uneven skin tone
Enlarged pores
Visible fine lines and wrinkles
Dry/dehydrated skin
The Ordinary & NIOD Products Recommended
Exfoliators
Salicylic Acid
NIOD NAAP Non-Acid Acid Precursor
The Ordinary & NIOD Products Recommended

Antioxidants
Vitamin C
Uneven Tone & Signs of Ageing
UNEVEN TONE
SIGNS OF AGEING
Irregular pigmentation of the skin
Loss of collagen and elasticity. Skin begins to lose its structure
Look & Feel
Hyper-pigmentation
Uneven tone
Age spots
Sunspots
Look & Feel
Fine lines
Wrinkles
Loss of elasticity
Loss of volume
Dehydration
The Ordinary & NIOD Products Recommended
Vitamin C
The Ordinary
Hylamide C25
NIOD ELAN
The Ordinary & NIOD Products Recommended
Peptides
The Ordinary Buffet
NIOD CAIS 2:1
How to use The Ordinary FAQS
It´s so confusing
It is very confusing when you first hear about The Ordinary. The names are simply ingredient names. You will see HA on a lot of the products. This stands for Hyaluronic Acid. The acronyms (particularly for NIOD) and the % make it all seem far more confusing than it actually is.
How much product do I apply?
2 -3 drops of each product and a pea-sized amount of cream is all you need. However, if you feel you need more, apply more.
How long do I wait between layers?
There's no specific time to wait. Just make sure the product is fully absorbed before applying the next.
Do I have to use the Squalane Cleanser?
If you have a favourite cleanser, feel free to it. The right cleansers are essential as they are the foundation of your skincare routine. You don't want anything that is going to strip your skin and leave it feeling dry.
How do I know my skin type?
What do all The Ordinary products do?
On The Ordinary website, on the Regimen Page, it does say what each product targets. I have created a page with different skin concerns + The Ordinary products here.
Are there any other routines?
Yes, you can find lots more routines here and also lots of personalized routines here.
What does it mean when it says products conflict?
If you are going to use one of the above routines, you do not need to worry as these have been prepared by Deciem and do not have any conflict.
Basically, quite a few products cannot be used together, and some products could cause irritation. The general rule is not to use retinol, pure vitamin c and acids in the same routine. But there are quite a few other products that shouldn't be used together like Pure Vitamin C and Niacinamide, Peptides and Pure Vitamin C. If you wish to read more about this you can read all about the products you can and cannot mix.
How do I layer the products?
Once again, if you follow one of the routines, you do not need to worry about layering as you can see the morning and evening routines in order of application. The way you layer products is important. It´s so the products can penetrate the skin.
The general rule starts with water-based products – the thinnest, clearest and finishing with your creams the thickest/opaque. Here's a guide on how to layer your skincare products.
I have quite sensitive skin – what if I am allergic to the products?
Before using any products, you should patch-test them first.
Best places to learn about skincare
If you are completely new to skincare, try not to overwhelm yourself with too much information all at once. It's also important you follow the right people when looking for information. Personally, when using Deciem products, I would follow the advice given by Deciem. Then, once you have more knowledge, you can make your own decisions. Deciem is on Instagram, Facebook, and YouTube and, of course, use their website.