LATEST DECIEM NEWS! Available January 19th Online & In Stores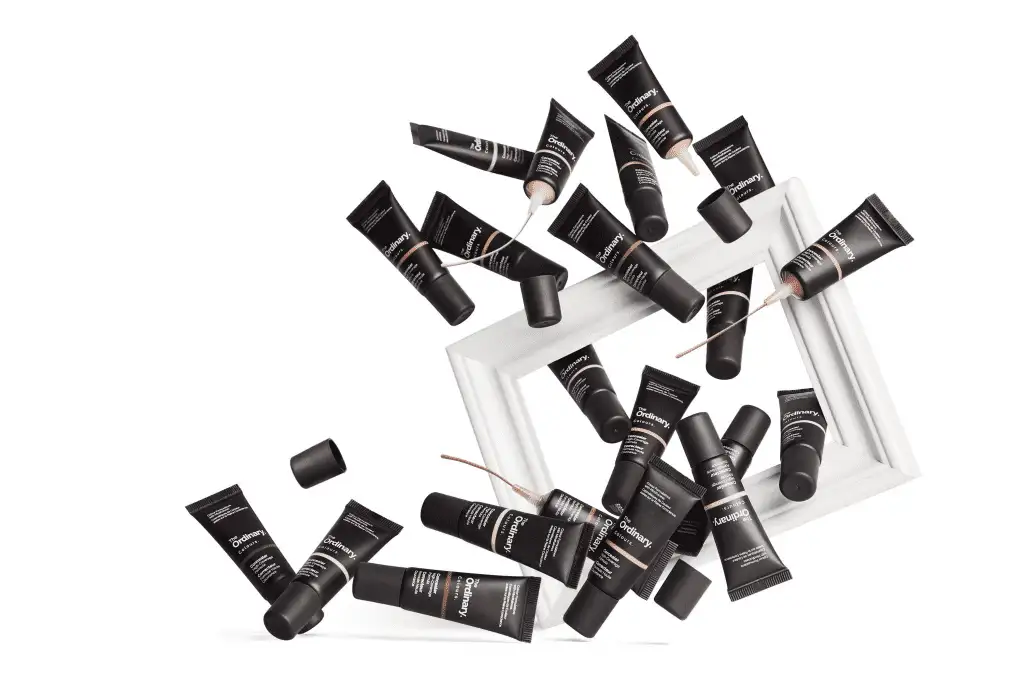 The Ordinary concealers will be on sale January 19th 2021!
The Ordinary Concealers will be available online and also in stores where open.
The Ordinary Concealers Come In 36 Shades
On Sale at Deciem January 19th
Real skin finish
Full Coverage
Now these could break the internet!
When The Ordinary launched its collection of foundations back in 2017, they accumulated a waitlist of over 75,000 from a brand that was just 1 year old. Will the concealers have the same effect? I think so!
About The Ordinary Concealers
The Ordinary concealers will offer a high-spreadability suspension system that will offer very high, yet buildable coverage with a real skin finish. The concealer will be packaged in a tube with a thin nozzle making application easy and precise.
How many shades of The Ordinary Concealer will there be?

There will be 36 shades of The Ordinary concealers released on 19th January. There are currently 21 The Ordinary foundation shades and later on in the year Deciem will be adding the 15 new shades to the foundation range.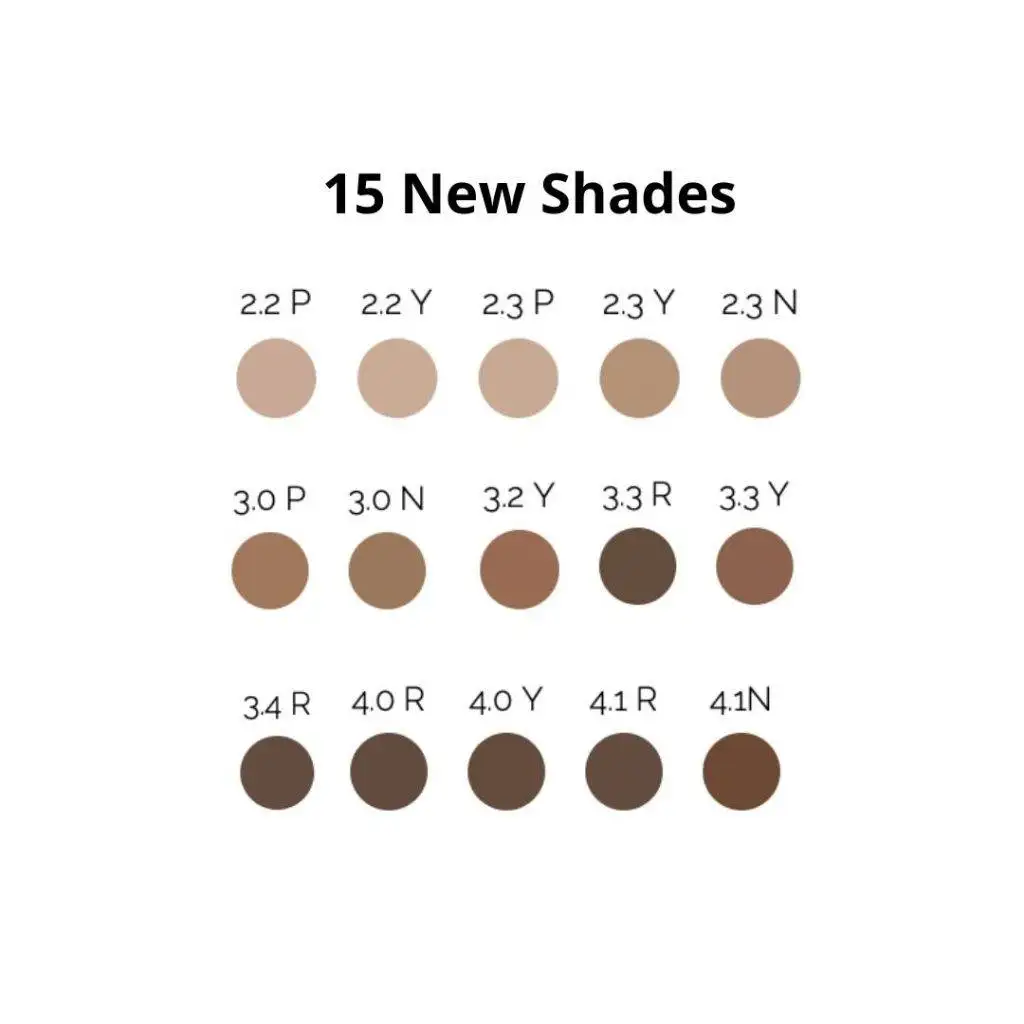 When will The Ordinary concealers be launched?
Release date is January 19th 2021! Sign up for notifications.
How to choose the correct concealer?
Deciem has confirmed that The Ordinary concealers have been formulated to be slightly lighter than the corresponding foundation. Therefore, I would personally suggest going for the same shade or maybe just one lighter. Photos of concealers and foundations coming soon and there are foundation matching websites you may find helpful.
How much are The Ordinary concealers?
The Ordinary concealer prices will be;
£4.90
$5.80 USD
$5.80 CAD
$10.80 AUS
€5.80
$60 HKD
How to use The Ordinary Concealers
You can use The Ordinary concealer using fingertips or a brush. Apply the concealer under the eyes, to cover blemishes or where needed.
Questions about The Ordinary Concealer answered by Deciem
Do I choose the same colour as my Ordinary serum foundation? You may wish to use the same shade to conceal uneven skin tone, or a lighter shade to brighten the under-eye area.
Do The Ordinary concealers provide SPF? No, The Ordinary's Concealers do not provide SPF protection.
Is The Ordinary Concealer good for the skin? The concealers do not have any skincare benefits
Will the foundations shades be extended? Yes! We are hoping to expand the rest of the Colours range (our Serum and Coverage Foundations) to include the additional 15 shades within 2021.
Will The Ordinary concealers be self setting? They are not self-setting.
What is the finish of The Ordinary Concealer? The Colours Concealer will offer a satin "real skin" appearance.
Is The Ordinary concealer matte? The concealer will have a satin "real skin" appearance.
Will The Ordinary concealer shades match the foundations? The shades within the range will directly correspond to the shades within our Foundations.
What does "high slip" mean? This formula uses pigments that are suspended in The Ordinary's proprietary spreadability system, allowing pigments to look natural on the skin, resist collecting in fine lines, and stay on for longer.
Is the concealer hydrating? Yes, it is
What are the ingredients of The Ordinary Concealers?
Aqua (Water), Caprylyl Methicone, Dimethicone, Dimethicone/Vinyl Dimethicone Crosspolymer, Isodecyl Neopentanoate, Dimethicone/PEG-10/15 Crosspolymer, Cetyl Diglyceryl Tris(Trimethylsiloxy)silylethyl Dimethicone, Dimethicone/Bis-Isobutyl PPG-20 Crosspolymer, PEG-9 Polydimethylsiloxyethyl Dimethicone, Polysilicone-11, C12-14 Pareth-12, Dipropylene Glycol, Xanthan Gum, Tocopherol, Sodium Chloride, Trisodium Ethylenediamine Disuccinate, Phenoxyethanol, Chlorphenesin. May Contain [+/-]: Titanium Dioxide (CI 77891), Iron Oxides (CI 77491, CI 77492, CI 77499), Tin Oxide, Bismuth Oxychloride (CI 77163), Mica, Triethoxycaprylylsilane.
How To Choose A Concealer
When it comes to concealer, it's a personal choice. Some people use the same shade as their foundation whilst others may choose to use concealers one of two shades lighter. 21 of The Concealers will match The Ordinary Foundation shades here. Below is a quick explanation for all the numbers and letters.
Here´s an example of names of the foundations;
1.2P is Light with Pink Undertones
2.0P is Light Medium Pink Undertones
3.0Y is Medium Dark with Yellow Undertones
The Ordinary colours are divided into three categories:
1 for fair to lighter tones
2 for medium tones
3 for darker tones
Each category then has a second digit from 0 to 3 to indicate depth within each category.
Finally, a letter is added to the shade code to identify the undertone:
P (Pink)
R (Red) indicate cool undertones for lighter and darker shades respectively
N indicates a Neutral tone
Y indicates a Yellow undertone
S indicates silver undertones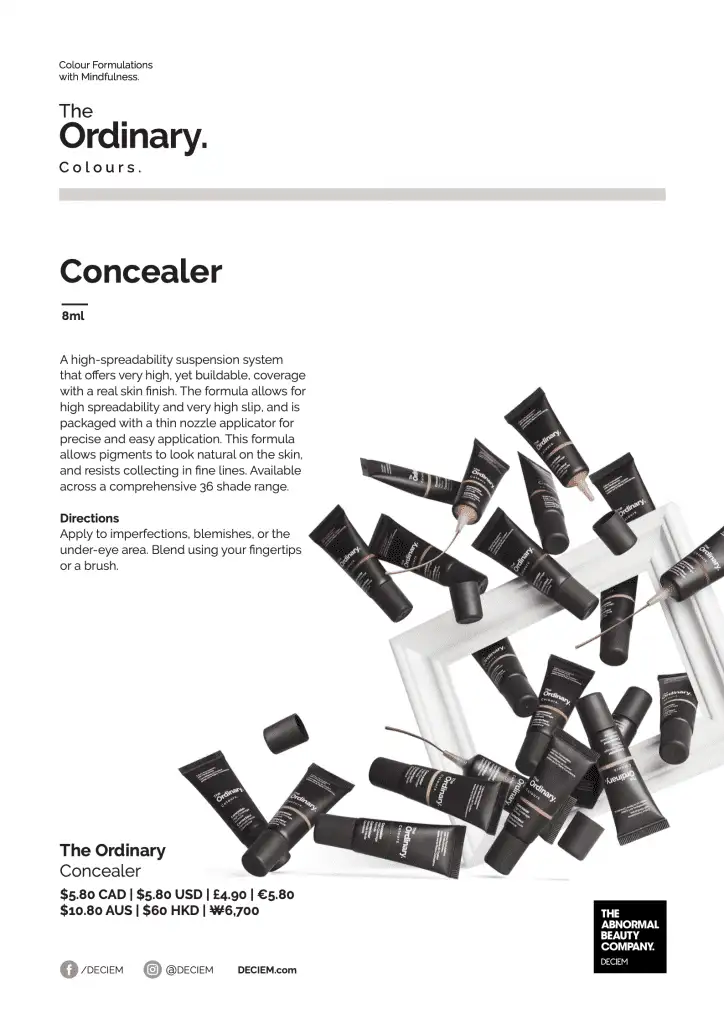 Where we first heard about The Ordinary concealers
In the interviews with Glossy and Beauty IQ Uncensored, Nicola Kilner confirms that Deciem is going to be bringing out The Ordinary Concealers.
Nicola Kilner says that Deciem will stop at concealers because makeup isn´t something they want to go into. So far there are 2 types of foundations in The Ordinary range, Coverage and Serum. Other makeup type products include NIOD Photography Fluid in 12% & 8% and Hylamide Photography Foundation range. You can read reviews here.
New Deciem Products Coming
In the podcasts, Nicola Kilner also talks about their new baby brand, Hippooh, the body brand Loopha and new sun creams factor 30 and 50 which are due to be released in April 2020.
There´s also some good news for Australian and Canadian Deciem Addicts. Due to the restrictions on the AHA 30% in your countries, Deciem have a brand new masque coming out, The Ordinary Pomegranate & Willow Bark Masque. This will have similar effects as the AHA 30% and will be available worldwide.
Nicola Kilner´s Favourite Products
Nicola Kilner talks about her favourite products and you can really hear her passion for Copper Peptides and how it´s all about the long term effect. Her general routine would be NIOD CAIS followed by NIOD MMHC2 not forgetting the NIOD FECC. When she's travelling she uses Buffet + Copper peptides as it has everything in it. She also uses Rose Hip Seed Oil and a drop of Sea- Buckthorn Oil.
The late Brandon Truaxe, the founder of Deciem, was also mentioned by Nicola Kilner as she spoke briefly about what happened and the difficult times they all went through in 2018.