Do you ever wonder the difference between The Ordinary, Hylamide and NIOD? Find out all the Deciem alternatives by the product name and by category. The Ordinary vs Hylamide vs NIOD. You can ask Deciem for a personalised routine. Remember to specify which brands you are interested in.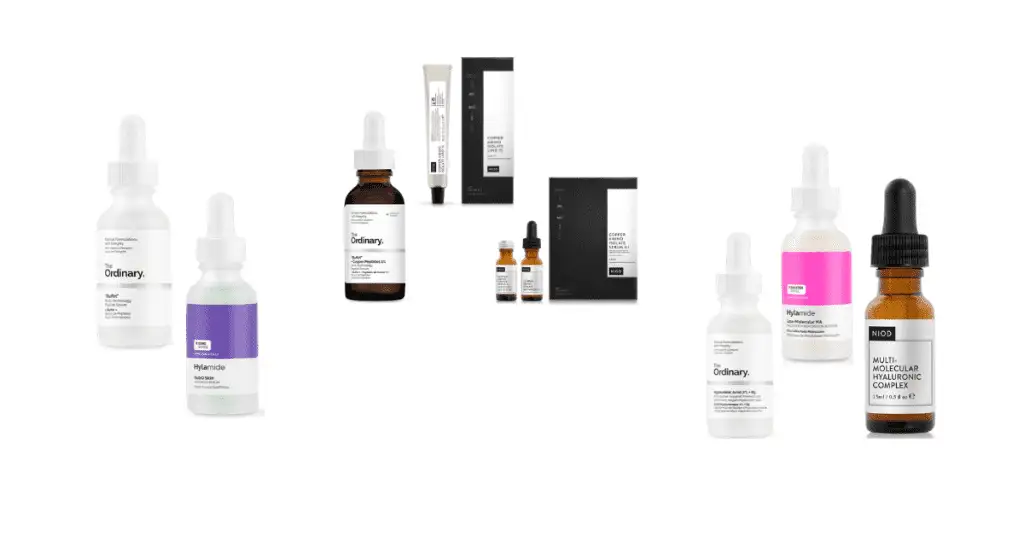 The Ordinary Vs Hylamide Vs NIOD
Deciem Products – The Ordinary, Hylamide, NIOD
About The Ordinary
Prices range from around 4$ up to 29$. The Ordinary now has over 50 products. These include acids, vitamin c, retinol, peptides, antioxidants, oils/hydration, and foundations and primers.
The Ordinary names are simply the ingredients. The Ordinary allows us to decide exactly what we put on our skin to target our skin concerns. If you are finding it all confusing, the best thing is to ask for a regimen or look through all these The Ordinary skincare routines.
Deciem says: The Ordinary is an evolving collection of treatments offering familiar, effective clinical technologies positioned to raise pricing and communication integrity in skincare. The brand was created to celebrate integrity in its most humble and true form. The Ordinary is born to disallow commodity to be disguised as ingenuity. The Ordinary is "Clinical formulations with integrity".
About Hylamide
Hylamide prices range from 10$ to 27$. This brand is totally underrated in my own opinion and great value as all prices were reduced a few years ago. Now you can only purchase Hylamide at Deciem. If you are totally new to skincare, buying The Core Series which comprises of a cleanser, hydrating mist, face and eye serum is a great place to start. It has everything you need to start your skincare journey.
Deciem says: Hylamide brings a mindful approach to skincare with a modest collection of multi-depth, multi-function formulas. Using the very latest in next-generation actives, Hylamide promotes optimum skin performance via minimalist regimens. Hylamide simplifies caring for skin without compromising on efficacy. Minimal regimens with maximum results. No previous skincare experience is required.
About NIOD
Deciem says: NIOD stands for Non-Invasive Options in Dermal Science uses leading-edge ingredients and ground-breaking technology to bring your skin the best the industry has to offer and has been described as the "Crown Jewel" of Deciem.
Deciem Routines & Regimens
You can find lots of personalized Deciem routines here and more The Ordinary Routines here.