Unboxing The Deciem Future Set
The Future Set by The Ordinary & NIOD includes;
The Ordinary Squalane Cleanser 50ml
The Ordinary EUK 134 (antioxidant)
NIOD MMHC2 (hyaluronic complex) 30ml
NIOD FECC 15ml (eye serum)
NIOD HV 50ml
NIOD Spoon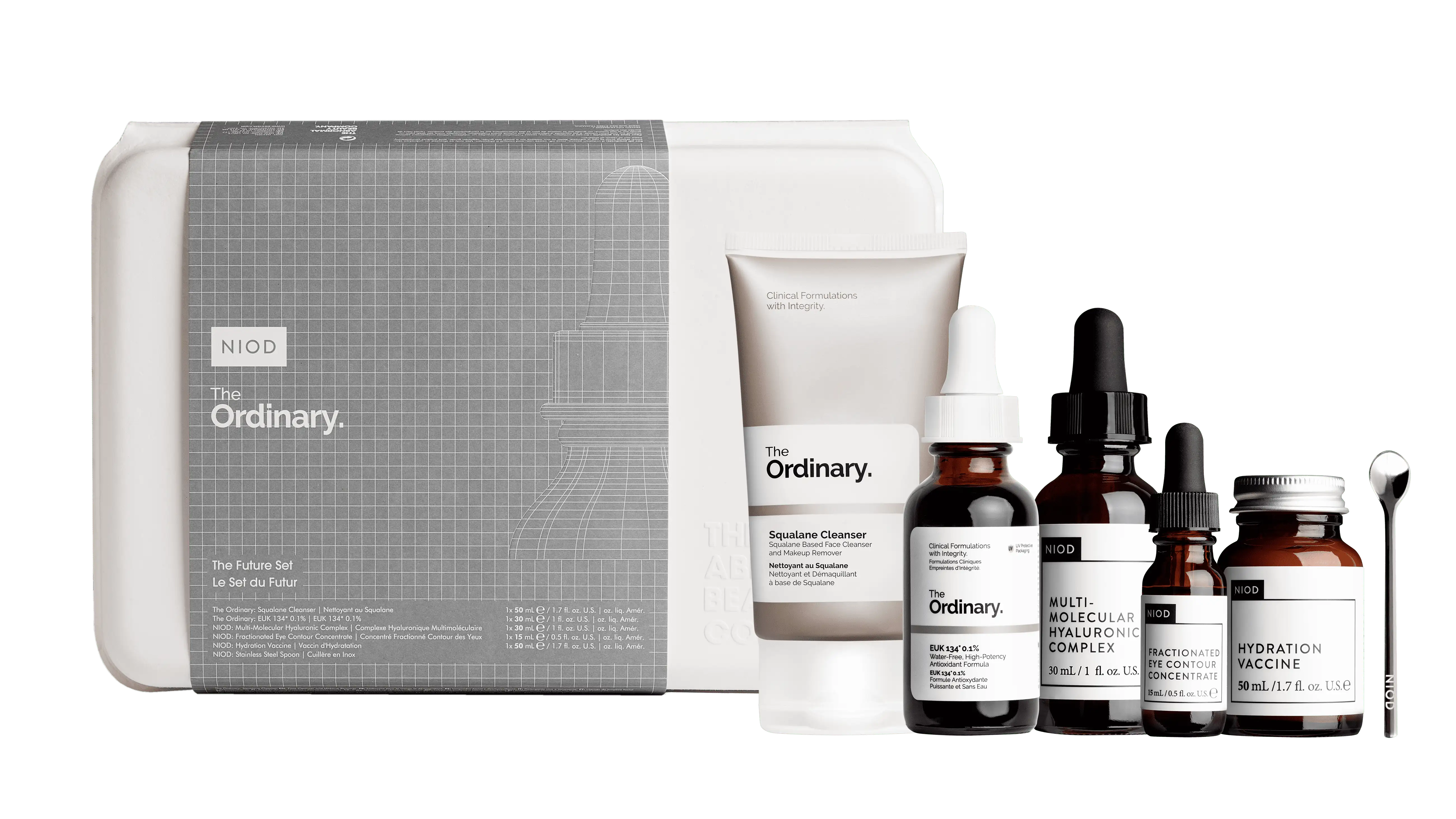 Price of The Future Box & Saving
*prices are correct at publishing.
Price of The Future Box
Price of items purchased separately
Saving
$149 USD
$162CAD
£127
€154
$242 AUD
$203.40 USD
$221 CAD
£138.90
€168.10
$303.70 AUD
$54.40 USD
$59 CAD
£11.90
€14.10
$61.70
The Future Set by Deciem
The Future Set includes products from NIOD & The Ordinary that take care of your skin for now and in the future. This set aims to focus on the skin's future health through gentle and efficient cleansing, hydration, and preventative maintenance via complex, next-generation technologies.
The Ordinary Squalane Cleanser | 50ml
A gentle cleansing and hydrating product formulated to target makeup removal whilst leaving the skin feeling smooth and moisturized, aiming to help support barrier function, which is essential in long-term preventative skincare.
The Ordinary EUK 134 0.1% | 30ml
A mimetic of superoxide dismutase and catalase, forming an exceptionally rare self-regenerating molecule that scavenges superoxide free radicals, eliminates hydrogen peroxide and converts reactive oxygen species into water and oxygen. This formula offers long-term benefits to the appearance of the skin by targeting the potential damaging effects of free radicals that may result in various forms of skin damage in the long term.
NIOD Multi-Molecular Hyaluronic Complex | 30ml
A multi-dimensional approach to topical hyaluronic supplementation by combining 15 forms of hyaluronic pre-cursors, support complex, and mimetics with ranging molecular weights in a peptide-charged delivery system.
This variation in molecular weight allows for multi-depth hydration for longer-lasting, visible results in the appearance of plumpness, elasticity, and overall healthy-looking skin.
NIOD Fractionated Eye Contour Concentrate | 15ml
A hyper-concentrated bio-serum for the eye contour combines 28 clinical technologies to target many under-eye and above-eye ageing signs.
The main technologies involved include HA and Collagen Technologies, Expression Technologies, Uneven Pigmentation Technologies, Fluid Retention Technologies, and Regeneration Technologies, which work synergistically to target a wide variety of issues in the eye contour to contribute to the appearance of undereye circles.
NIOD Hydration Vaccine | 50ml
A "breathing" adaptive hydration seal for the skin pays homage to the skin's natural hydrating capabilities by protecting against the loss of Natural Moisturizing Factors (NMF) through the support and supplementation of the skin's barrier, allowing for long-term effectiveness.
The advanced combination of ingredients within this formula addresses the full spectrum of anti-ageing and hydration needs of the skin.
NIOD Stainless Steel Spoon
A stainless steel spatula is available for optional use with higher-viscosity NIOD products.
The Ordinary & NIOD Chat Room
If you´re wondering whether to purchase this set, come and join The Ordinary & NIOD Chat Room which is an independently run Facebook Group and chat with over 200,000 members for their honest thoughts and reviews.