The Ordinary Bright Set includes;
Squalane Cleanser
Caffeine Solution 5% + EGCG
Ethylated Ascorbic Acid 15% Solution
Glycolic Acid 7% Toning Solution
See All The Ordinary & NIOD Gift Sets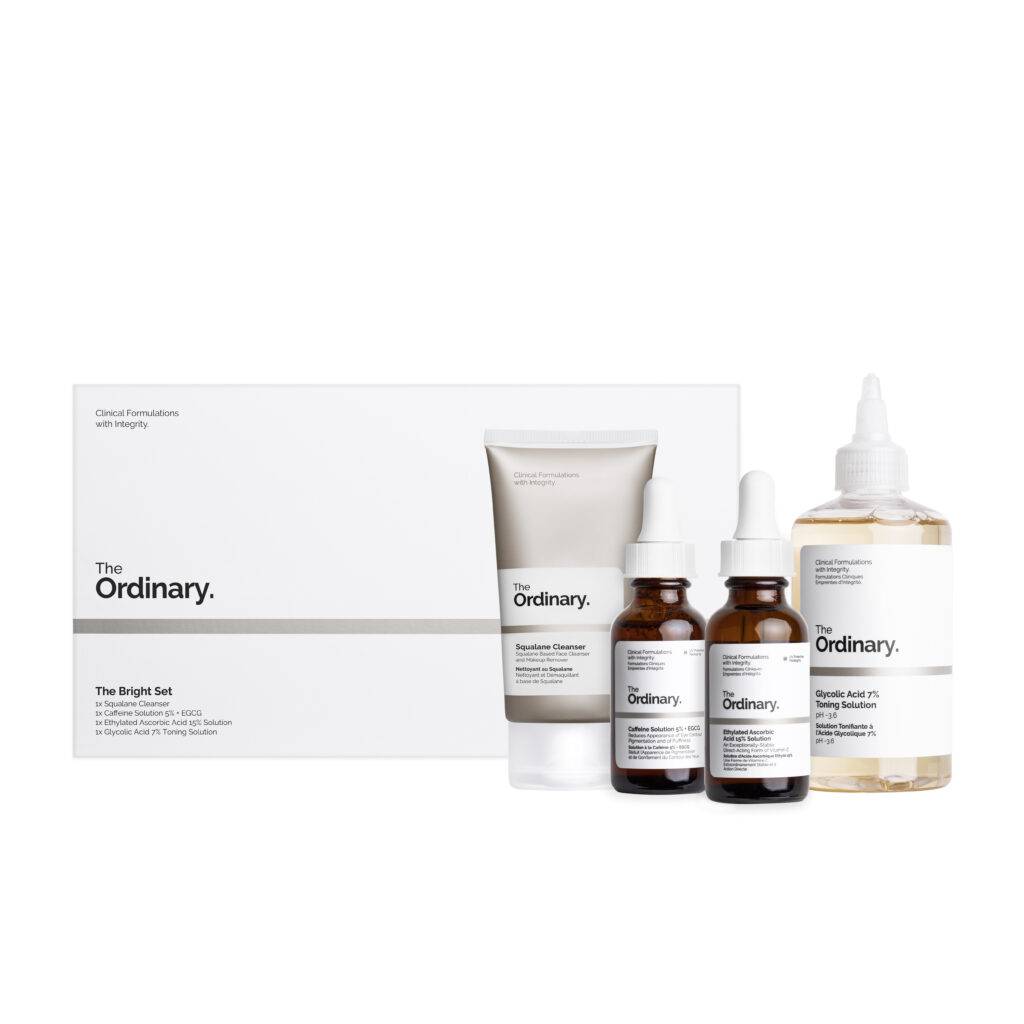 The Ordinary Bright Set is composed of four products;
Gently cleanses the skin
Targets the look of dark circles in the eye contour
Promotes radiant, healthy-looking skin
Provides mild exfoliation for visible clarity.
So is this a complete routine?
Unlike the other sets, this set isn´t really a complete routine and is more about the individual products that will help with brightening. Ethylated Ascorbic Acid and Glycolic Acid should not be used in the same routine. You would need to alternate them.
Check The Ordinary Conflicts ⚠️
Squalane Cleanser and the Caffeine Solution can be used with all products. Acids and Vitamin C have a lot of conflicts, so make sure you check the conflicts chart before using it. If I list them here, I feel it will confuse you even more as there are a lot of products to avoid.
Personally, I´m not too keen on this set as I think people expect these sets to be complete regimens with products you can use together safely, but it´s more of a selection of "brightening" products to fit into your existing routine.
How much is The Bright Set?
Check the price in your currency here.
How to use these products
Squalane Cleanser
You can use this in the morning and evening.
Apply a small amount to the palm of your hands. Rub together until the consistency changes to a balm where your hands just glide against each other.
This can take around 20-30 seconds. Just keep going and you will feel the consistency change a couple of times.
Read more about Squalane Cleanser
Ethylated Ascorbic Acid
Ethylated Ascorbic Acid should be used in the evening.
Alternate this product with the Glycolic Acid and any other products that may conflict.
Apply a few drops to the palms of your hands and pat or massage until the product is fully absorbed.
This is an anhydrous solution. Therefore, it would be applied after your water-based products but before any creams. See how to layer.
Read more about Ethylated Ascorbic Acid
Caffeine Solution
You can use it in the morning and evening.
Just a drop is all you need around each eye.
This is amazing for puffy eyes.
Some people find it drying, so be sure to make sure you add some hydration to the area.
Read more about Caffeine Solution
FAQS about The Bright Set – Answered by Deciem
When should I use The Ordinary Ethylated Ascorbic Acid? You may wish to use this in your PM routine.
How old should you be to use this set? Our products are intended for adult use.
Can I mix Glycolic Acid with Lactic Acid? We recommend using Lactic Acid and Glycolic Acid in alternate PM routines
Could I use The Bright Set against acne? Just as a note – none of our products can be considered medical treatments for acne, so we suggest consulting with your physician to see what may work best for your skin.
Can I use The Bright Set products at the same time whit Retinoid, Buffet and Hyaluronic Acid? We recommend using Vitamin C and Glycolic Acid in alternate routines as Retinoids and the "Buffet".
Can the products in The Bright Set be used with the peeling solution? We recommend using Vitamin C and Glycolic Acid in alternate PM routines as the AHA 30% + BHA 2% Peeling Solution.
Does the caffeine solution have any conflicts with the products in this set? You may use The Ordinary Caffeine Solution 5% + EGCG with the mentioned products.
Can the Caffeine Solution be used on the face? Caffeine Solution is intended for the eye area.
Where does Ethylated Ascorbic Acid fit into my routine? We'd recommend applying before creams.
See All The Ordinary & NIOD Gift Sets